Contact me:
Address of service:
Reflexology and Massage Atelier of Beata Juengst
ul. Podwale Street 11/9
85-111 Bydgoszczy
e-mail:
beata@atelier-masazu.pl

Mobile:
(+48) 79 85 69 180
Getting to the Atelier Massage
Podwale Street is a one-way street, to which entry is set from the side of Długa Street - from Bernardyńskie Roundabout (Zbożowy Rynek). Characteristic point of entry in Długa Street is Jack Pub.
Parking spaces - to be paid from 8:00 am to 17:00 from Monday to Friday and on Saturdays from 8.00 am to 14.00 - includes:
- Along Długa Street from the entrance of Bernardyńskie Roundabout ("Zbożowy Rynek") opposite the Jack Pub, left,
- Along the Podwale Street on the left,
- along Magdzińskiego Street on the right side - the Sphinx Restaurant,
- Grodzka Street - two multi-station parking lots with a large surface area: by the historic barns (Rybi Rynek) and at BRE Bank (opposite the entry of Przy Zamczysku Street).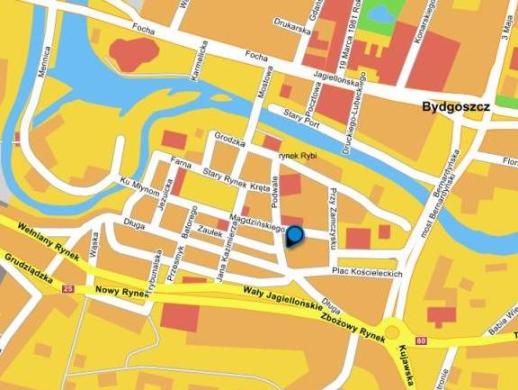 Mapa pochodzi z serwisu
Mapa Panoramy Firm